5 Recipes to Lose 5 Pounds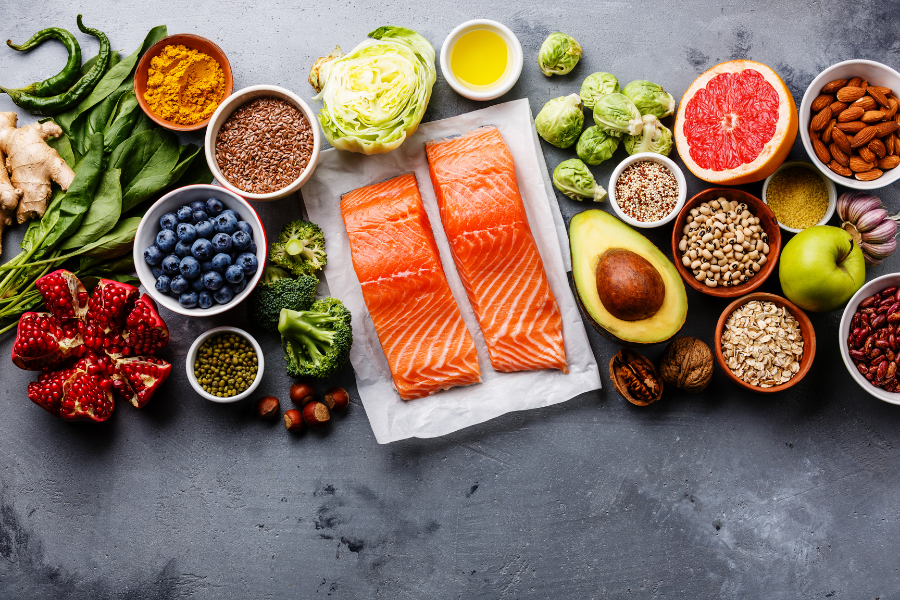 Broiled Mustard-Crusted Steak
1 Serving
Ingredients
1 tsp mustard powder
2 tsp apple cider vinegar
¼ tsp salt
½ tsp black pepper
2 cloves of garlic (minced)
Lean steak in a thick cut (boneless strip steak or flank steak)
Directions
1. Combine mustard powder, apple cider vinegar, salt, black pepper, and minced garlic in a bowl to form a thick paste.
2. Cover steak in the paste and let sit for 10-15 minutes.
3. Preheat broiler
4. Place steak on broiler pan, and broil until desired doneness, flipping halfway through (about 4 minutes on each side for medium)
Caramelized Garlic Chicken
1 Serving
Ingredients
¼ cup of water
1 tbsp white balsamic vinegar
3 large garlic cloves
½ medium onion
Salt & pepper to taste
Chicken breast
Directions
1. Place water, white balsamic vinegar, garlic, and onion in a blender. Blend into a puree.
2. Pour puree over chicken in a small baking dish and allow to marinate for 3-6 hours in the refrigerator. (Turn chicken regularly to coat the entire chicken breast)
3. Preheat oven to 375 degrees F.
4. Cover roasting pan with lid (or tinfoil if no lid)
5. Bake for 35-45 minutes or until chicken is fully cooked.
6. Plate and enjoy.
Traditional Texas Chili
1 Serving
Ingredients
Lean ground beef
¼ onion (minced)
2 cloves garlic (minced)
1 cup chopped tomatoes
1 cup beef broth
½ tsp garlic powder
½ tsp onion powder
½ tsp chili powder
½ tsp cumin
Pinch of oregano
Cayenne pepper, salt, and pepper to taste
Directions
1. Brown ground beef in a small pot.
2. Add onion and garlic and cook until onion is translucent.
3. Stir in tomatoes, broth, and spices, and simmer on low.
4. Cook until liquid is reduced and flavors are strong & fragrant.
5. Serve and enjoy.
*The longer you cook the chili, the better the flavor, so feel free to keep it on the stove for as
long as you like.
**Add more broth as needed to prevent burning and sticking to the pot.
No-Carb Spaghetti
1 Serving
Ingredients
1 cup chopped onion
5 cloves garlic (minced)
4 tbsp beef broth
Lean ground beef
1 14 oz can diced tomatoes (no sugar/salt added)
1 16 oz chopped tomatoes
1 tsp tomato paste (no sugar/salt)
¼ tsp oregano
¼ tsp roman basil
¼ tsp marjoram
⅛ tsp rosemary
1 ½ tsp salt
4 cups shredded cabbage
½ tsp pepper
Directions
1. Saute 2 tbsp of beef broth with the onion and 3 cloves of garlic in a medium saucepan.
2. Once the onion is translucent, add the beef and brown.
3. Stir in the tomato ingredients (tomato paste, diced and chopped tomatoes), ½ tsp salt, and the spices.
4. Cover and let simmer on low.
5. In a separate pan, saute 2 remaining cloves of garlic in the remaining 2 tbsp of beef broth for 45 seconds.
6. Add cabbage, ½ tsp salt, and ½ tsp pepper to the pan
7. Saute until soft (about 10-15 minutes).
8. Divide the cabbage between two plates and top with sauce and enjoy.
Spicy Citrus Mahi Mahi
1 Serving
Ingredients
½ tsp lemon-pepper seasoning
½ tsp cayenne pepper
¼ tsp paprika
¼ tsp salt
Juice from ½ lemon
10 oz spinach
Mahi Mahi
Directions
1. Combine seasonings and rub on Mahi Mahi (front and back).
2. Heat a medium-sized pan on medium-high heat
3. Add Mahi Mahi to the pan and cook fish for 2 minutes on each side.
4. Reduce heat to low-medium and pour lemon juice over fish.
5. Cook until reduced and fish is fully cooked (about 4 more minutes).
6. Place fish over a bed of spinach and enjoy.